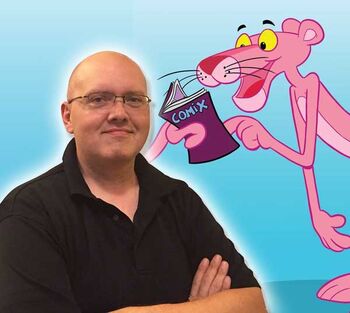 Adrian Ropp is an award-winning animation professional and comic book creator who has worked on Archie Comics, Casper the Friendly Ghost, Rocky and Bullwinkle, Pink Panther, Underdog, The Three Stooges and more. He's created trading card art for Topps and Upper Deck.
Video Game Art Career
Adrian Ropp began his career in entertainment as a story artist in 1994 for the PC video game "Secrets of the Luxor", which found limited success in the U.S and high popularity in Germany and Japan.
In 1996, he was hired to work on the theatrical animated musical, "The Princess and the Pea" as the assistant to director Mark Swan. At Swan Animation, he did development work on a spin-off animated series, Pig Tales, which he eventually directed and wrote. He did story work for a shelved feature, "The Emperor and the Nightingale", and went on to animation direct "The Velveteen Rabbit".
In 2007, Adrian began work at Disney Interactive as a senior story artist. He worked Bolt: The Video Game for a short time at the end of production. He wrote dialogue for Rex, Slinky and Mr. Pricklepants in Toy Story 3: The Video Game, as well as several storyboards for the project. After developing over 20 minutes of story scenes for a fantasy game project that was canceled, he was assigned to Cars 2: The Video Game.
For Cars 2: The Video Game, Adrian conceptualized, storyboarded and directed the two and a half minute opening sequence, a tour-de-force of action in which Mater and Finn McMissile raced to capture Professor Z on an oil rig at sea.
For Disney Infinity, a new gaming initiative designed to include franchises from all segments of the Disney corporation, Adrian acted as Story Lead on both the Monsters University and Cars play sets, and has created storyboards for every play set associated with the project.
Pink Panther
Adrian Ropp worked on several Pink Panther comic stories for American Mythology.
Gallery