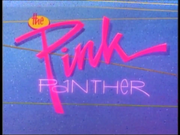 The Pink Panther is a 1993 animated television series, starring the Pink Panther and his co-stars from the original cartoon shorts in a series of brand new stories. The program was credited as being a co-production of Metro-Goldwyn-Mayer Animation, Mirisch-Geoffrey-DePatie-Freleng and United Artists, though only the former was responsible for its production, as the other properties either ceased to exist or were transferred to MGM a decade before it was aired. It was distributed by Claster Television and not MGM Television, despite MGM owning The Pink Panther, and is the only series to have the panther talk; in other animated series featuring the Pink Panther, he is silent and only rarely speaks.
The show was nominated for a daytime Emmy award in 1994 for Outstanding Achievement in Music Direction and Composition.
The 1993 incarnation of The Pink Panther starred the legendary hip feline in series of brand new adventures, in which he dealt with different situations in a manner similar to the original Looney Tunes shorts, ranging from modern day situations such as working as a delivery boy to outlandish situations like living in caveman days. Unlike previous television series and almost the entire theatrical run, the series was produced with the Panther capable of speaking throughout the episodes. Voiced by Matt Frewer, he was given a humorous American accent in order to appeal to younger children, which was in sharp contrast to the sophisticated British accent supplied by impressionist Rich Little who voiced the Panther briefly in two 1965 cartoon shorts, Sink Pink and Pink Ice.
Alongside the Pink Panther, a number of his co-stars from the original theatrical shorts appear in the series, including: The Inspector, who the Panther assists in the guise of an American police officer; The Ant and the Aardvark, with John Byner reprising the role of both characters; The Dogfather and his henchdogs Pugg and Louie, who were redesigned for this series; The Muscle Man from the 1968 cartoon Come On In! The Water's Pink; and "The Little Man", who like the Panther, was also designed to speak in the series, with Wallace Shawn providing his voice. The series also featured new characters, including a mask-wearing tribal witch doctor named Voodoo Man, a little red-headed girl named Thelma, and a sweet old lady named Mrs. Chubalingo and her pet parrot Jules.